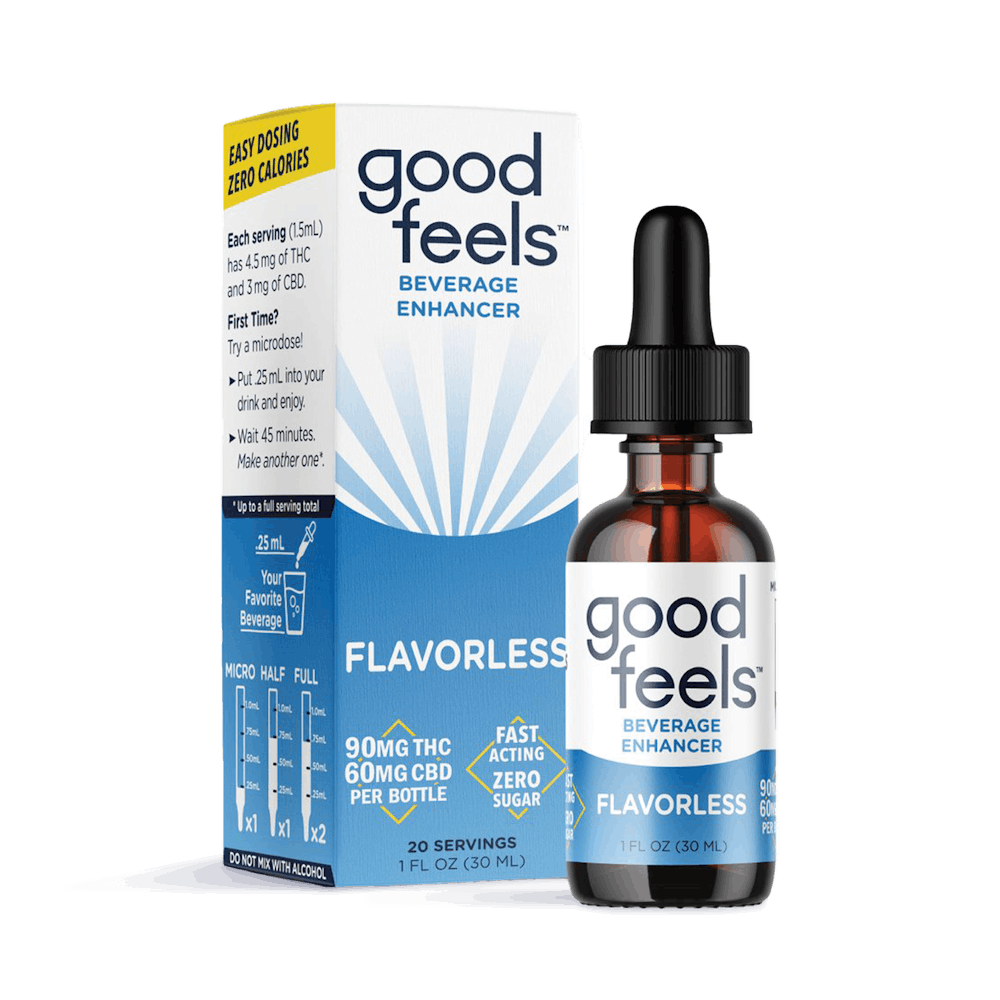 high cbd
Flavorless Beverage Enhancer
Good Feels
Product information
$40
Options
Description
3:2 Entourage Blend Good Feels "go anywhere" beverage enhancers allows the consumer to make any drink into a cannabis-infused drink - no matter where they are. Made with nano-particle cannabinoids, the Beverage Enhancer is nearly dissolvable in any liquid, making it easy to build the perfect experience with this fast-acting drink mix-in. Expect the good feels to set in about 5-10 minutes after finishing the beverage. Try the flavorless option for a seamless experience - or try the flavored options to enhance the flavors of your beverage. Scan the QR code on the box for simple instructions and recipes. Zero sugar, zero calories, all the mojo. Now that feels good. Each serving delivers approximately 4.5mg THC and 3mg CBD for perfectly good feels.
Additional details
THC-D9 (Delta 9–tetrahydrocannabinol) - 87.1MILLIGRAMS
"TAC" - Total Active Cannabinoids - 150MILLIGRAMS
About the brand
Good Feels
Have you ever had this lightbulb moment after a night out? "Drinking just doesn't feel good anymore" Ya... Good Feels' too. Thats why they've created deliciously satisfying cannabis-infused seltzers and beverage enhancers. With no alcohol and all the flavor of a deliciously carbonated seltzer, Good Feels' infused beverages - made with pure cannabis extractions - provide a balance of CBD and THC in a crisp sparkling beverage. Have you ever wished you could make a regular beverage into a cannabis-infused beverage? Now you can with just a few drops of the Good Feels Beverage Enhancer. This on-the-go option makes every drink a Good Feels drink. Perfect for micro-dosing, the Beverage Enhancers are fast-acting, has a clean consistent taste, and make it easy to control your desired experience. *Zero Sugar *Zero Calorie *Fast Acting *Easy Dosing *No Hangover A better alternative to drinking & smoking, helping you to become a better you. Explore Good Feels line of cannabis-infused seltzers and beverage enhancer drink drops in the state of Massachusetts and keep an eye out for seasonal limited-time flavors.